General Climate Sciences
Technical Rating
Easy
Harder
Most Difficult
Technical Rating:
Six experts were invited to give oral testimony to the Energy and Climate Change Committee of the U.K. House of Commons about the Intergovernmental Panel on Climate Change (IPCC) 5th report (AR5). Three experts reiterated the position of the IPCC, and three experts expressed a skeptical view. Dr. Richard Lindzen says the data presented in the AR5 "is consistent with there being no problem worth bothering about". Nicholas Lewis says the observational evidence in AR5 shows that the climate is much less sensitive to CO2 than in the models. Donna Laframboise says the IPCC is led by an "environmental activist" and that the IPCC is "untrustworthy".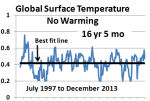 Emeritus professor Garth Paltridge, former chief research scientist with the CSIRO Division of Atmospheric Research, says "Virtually all scientists directly involved in climate prediction are aware of the enormous uncertainties associated with their product." He explains that climate models are unable to simulate the behavior of clouds and oceans fluctuations, two factors that have enormous effects on climate. The 16-year pause in global warming shows that climate scientists have seriously overstating the climate problem which risks destroying the reputation for honesty in science which is the basis of society's respect for scientific endeavour.
Friends of Science made two submissions to a UK House of Commons committee inquiry into the IPCC's Fifth Assessment Report (AR5). FoS Director Ken Gregory authored a submission on behalf of the society, and FoS Director Neil Hutton authored another submission.
The Rotarian, a magazine of Rotary International, published an article September 2013 that falsely claimed that our use of fossil fuels has "massive environmental side effects, including climate change, loss of biodiversity, and acidification of the oceans." and claims it is "dangerous". Each of these claims is untrue and is contradicted by evidence. Here is our rebuttal.
Two students of an Al Gore's Climate Reality training session gave a presentation to a Calgary, Canada audience in March, 2013. The presenters were unaware of evidence that the anthropogenic global warming theory (AGW) is incorrect. The PowerPoint presentation showed emotional images designed to scare the audience into thinking that fossil fuel use endangers the world. Ken Gregory rebuts the presentation and shows evidence that AGW is not a problem.