Health and Animals
Technical Rating
Easy
Harder
Most Difficult
Technical Rating:
The chairman of the Nunavut Wildlife Management Board says the polar bear population along the Davis Strait has doubled during the past 10 years. This article shows that there is a huge gap between model projections of polar bear populations and observations from local people.
Technical Rating:
Fred Singer and Dennis Avery summarized various studies of mortality rates related to extreme cold and extreme temperatures. They report, for example, that extreme cold killed roughly twice as many Americans as heat waves. All this evidence makes clear the fact that warmer is healthier than colder.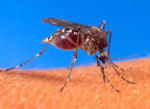 Technical Rating:
This article discusses the spread of disease causing mosquitos. It shows that the increasing globalization of disease is a result of modern transportation.
Technical Rating:
This article reviews the factors involved in the spread of the West Nile Virus and Lyme Disease. Unlike the claims of some climate activists, the article shows that climate change has nothing to do with the spread of these diseases.
Technical Rating:
A coalition of 41 civil society organizations from around the world review the effects of global warming on factors such as human health, death rates, agriculture and forestry, particularly in under-developed countries.