Polar Regions and Glaciers
Technical Rating
Easy
Harder
Most Difficult
Technical Rating:
A collection of climate alarmist tourists and scientists have been rescued from their boat, trapped by record high Antarctic summer sea ice. The climate scientists aboard the Russian research vessel, the Akademik Shokalskiy, expected to find evidence of melting sea ice, but instead encountered record high Antarctic sea ice. The Antarctic 2013 year-average sea ice area is the highest ever recorded during the satellite era which began in 1979 and the present sea ice area is near the record high. Global sea ice area at year-end 2013 is the highest ever recorded for the date and the global 2013 year-average sea ice area is the highest since 1996.
Technical Rating:
A NASA-led team of scientists has uncovered strong evidence that soot from a rapidly industrializing Europe caused the abrupt retreat of mountain glaciers in the European Alps that began in the 1860s, a period often thought of as the end of the Little Ice Age. Black carbon is the strongest sunlight-absorbing atmospheric particle. When these particles settle on the snow blanketing glaciers, they darken the snow surface, speeding its melting and exposing the underlying glacier ice to sunlight and warmer spring and summer air earlier in the year.
Technical Rating:
The Economist magazine article "The Melting North" claimed that carbon dioxide (CO2) emissions are causing Arctic warming. We show that the greenhouse effect has not increased in the Arctic since 1979, so CO2 emissions cannot be the cause of the warming.
Technical Rating:
FoS scientific advisory board member Dr. Madhav Khandekar writes that Himalayan glaciers are not retreating any faster than glaciers elsewhere. The largest and most important glaciers of the Himalayas show very little retreat at this time.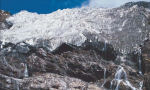 Technical Rating:
This November 2009 report on the state of Himalayan glaciers by V.K.Raina, of the Geological Survey of India shows that glaciers are not retreating abnormally and do not show any immediate response to climate change. Himalayan glaciers, although showing a retreating front, have not in exhibited recent abnormal annual retreat. Some glacier's retreat has slowed significantly during the last few years.