Sea Level Rise
Technical Rating
Easy
Harder
Most Difficult
Technical Rating:
An interview with Dr. Nils-Axel Morner. Dr. Morner is the head of the Paleogeophysics and Geodynamics department at Stockholm University in Sweden. He is past president (1999-2003) of the INQUA Commission on Sea Level Changes and Coastal Evolution, and leader of the Maldives Sea Level Project. He shows that the IPCC projections of sea level rise are "nonsense".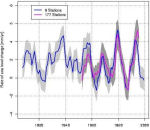 Technical Rating:
A summary by the Proudman Oceanographic Laboratory, Liverpool, UK. It shows that the first half of the 20th century (1904-1953) had a slightly higher rate of sea level rise (1.91 mm/yr) in comparison with the second half of the century (1.42 mm/yr 1954-2003).
Technical Rating:
Woppelmann et al analyzed data from 160 GPS stations that were within 15 km of tide gauges to determine the vertical movement of the tide gauges. They determined that the global average sea-level rise from January 1999 to August 2005, after correcting the tide gauge data by the vertical land movement, was 1.31 mm/year.
Technical Rating:
A commentary by World Climate Report on the above sudy of Sea-level trends.
Technical Rating:
The authors of this review paper summarize what is known about past and current rates of sea level rise. They report that "the geocentric rate of global mean sea level rise over the last decade (1993-2003) is +2.8 +/- 0.4 mm/yr, as determined from altimeter measurements," and that "this rate is significantly larger than the historical rate of sea level change measured by tide gauges during the past decades (in the range of 1-2 mm/yr)."